This year, two players of the World Women's Tour will participate in the World Champion Qualifiers again. The first one is reigning World Champion Reanne Evans, the second is Rebecca Kenna. We'd like to introduce the latter personally to our audience. This portrait is also available in German, English translation by Filia Rheni.
It's fair to describe Rebecca as both a late and stellar bloomer. In 2016, the then 27-year-old (then called Rebecca Granger) suddenly appeared on the tour and, this being her second tournament, immediately went through to the semi-final of her World Championship debut. Ever since, the Women's Tour can't be imagined without her. She has achieved three World Championship semi-finals and one quarter-final, in addition to three finals in Women's ranking tournaments. In 2019, she won the Hong Kong Masters, defeating Nutcharut Wongharuthai. She is currently number 4 in the world's ranking. However, the Women's Tour is on hold due tot he Corona-pandemic since there are no financial resources to hold pandemic-conform tournaments.
Since 2018, Rebecca Kenna is a certified Snooker coach and owner of Cue Sports Yorkshire.
Rebecca Kenna, The Player
Lula: How (dis)satisfied are you with your career so far?
Rebecca: "Very satisfied, I've done so much in the five years from entering my first women's snooker tournament. I'm really looking forward to getting back to competing on the women's tour."
Which event showcased your best performance as a snooker player?
"I would say the 2019 Women's Hong Kong Masters since I won that event. It was an invitation event for 16 of the best female players around the world so to win that was amazing."
What kind of player are you? Please tell us about your strengths and your weaknesses.
"I'd say I'm a very attacking player with a good safety game. A big strength of mine is my long potting & recovery shots. I do tend to throw in unforced errors/easy misses so I'm working on ironing those errors out of my game."
Whose skills do you find most impressive?
"In terms of cue action it has to be Robertson's. But as far as making the game look easy and having that cue ball on a string it has to be Judd."
A woman in the "men's club"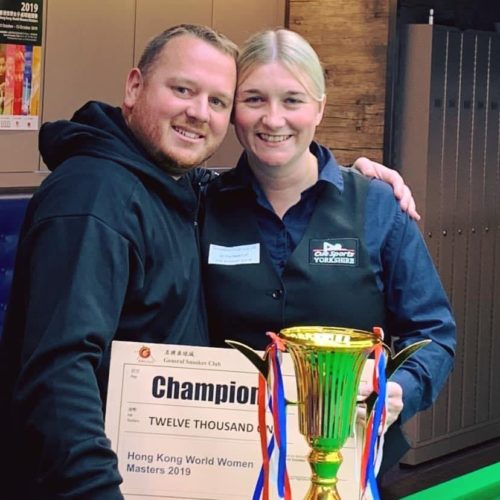 Rebecca gets most support from her husband Ash. He supports her in every decision she makes and comes with her to events when he can. "We've been together 14 years and married for 4. When I wanted to spend our savings opening a cue sports shop so I'd have my own table to practice on he said "Go for it"."
However, not all men are as supportive, a lesson which Rebecca had to learn several times. A couple of years ago you couldn't play some of your league matches because they were held in 'men only' clubs. Since there were no rules on this matter, her team lost those matches by default. Rebecca went public with this, even the BBC covered her story. Despite the association backing her, the issue did not get resolved and Rebecca subsequently left the league.
This issue didn't get resolved while she was still involved with her local league. But since she left, one club now lets women in. And the league brought in a rule that frames involving a female or junior (when playing in a club that doesn't allow them entry) should be played at a neutral venue or they lose the frame. It truly is a shame that it has taken so long to put these rules into action.
A huge step against sexist discrimination
The end of the "men-only"-era within the English League was an important step. The World Women's Tour being declared an official way to a World Snooker tour card is the next step in the direction of supporting women's Snooker.
"It's now been revealed that Reanne (Evans) & (Ng) On Yee have been given tour cards which I think is fantastic for them and the women's game. Something needed to happen with the women's game to help it develop quicker than its current rate, either offer the World Champion a Pro tour spot and keep the women's tour as an amateur tour or give the World Women's Snooker tour pro status offering decent prize money so women have a viable option in turning pro. I think the first option is the easiest and most simple option. Now girls & women can start out on the WWS tour and have a fantastic prize at the end to aim for in a pro tour card."
Pandemic as a chance
"I think we've been lucky there was a global pandemic which halted amateur play giving the WST an opportunity to offer these tour spots to women. I don't think it would have happened otherwise. They have also announced many other routes other than Q school to get onto the pro tour. So there are some fantastic opportunities now. I think Reanne & On Yee are the best two to have these tour cards, given they have dominated the women's game for so long winning multiple world titles. Since there will be another tour spot available next year it will drive all the girls on tour to put the hours in and help grow the women's game massively in terms of participation, strength and depth."
Do you think for male players there is a difference between losing to a female player than to a male?
"Since female players are so rare it wouldn't be a shock if a male found it a bit more daunting playing a female. But most male players will tell you if the female is a good player there is no shame losing to them and don't treat matches any different."
Snooker coaching: H
elpful for your own development
Rebecca has a background in sports coaching. She worked as a Personal Trainer when she started playing on the women's tour. She had a keen interest in developing her own game once she started competing and enjoys teaching others. So it made sense to get booked onto the WPBSA Snooker Coaching courses. Once she opened her cue sports shop, she was able to offer coaching to students. Then she was able to quit her job as a personal trainer and does snooker coaching full time. This enabled her to be on and around a snooker table all the time which has helped improve her game massively.
Cue action, game knowledge and a positive mind
"When I first started competing things like nerves and fear hindered my game. But I've read Dr. Steve Peters book the "Chimp Paradox" on mind management. So this has helped my mind during match play and it's something I continue to work on.
The most important qualities and skills to be(come) a top snooker player are a consistent cue action, diverse game knowledge and a focussed positive mind. The problems troubling snooker players depend on at what level they are playing. At pro level it's the mind, at beginner level it's a consistent cue action. As a coach you have to be a good communicator, knowing what's needed to improve the individual, getting the most out of that individual."
Her biggest wish for the near future is to become World Women's Snooker champion. "I feel I started competing too late in my life to have any aspirations of joining the pro tour. But given the new opportunity available on the women's tour who knows. I'll certainly put the hours in and give it my best shot."
Rebecca Kenna, The Person
Do you know if there's something your fans would really appreciate you doing for them?
"I have a Facebook page for all my snooker content. So followers can comment on there if there's something they'd like to see or know."
What are you most passionate about (off of the snooker table)?
"Living life to the fullest."
Would you consider yourself to be a generally happy person?
"Yes, I'm a positive person, if there was something in my life making me unhappy I'd change it. Life's too short."
What do you like the most/find most interesting when you are in a foreign country?
"I enjoy eating out and trying new foods so it's been fantastic to travel the world playing on the women's tour, I've visited places I would never have been otherwise. Singapore, Thailand, Malta, Belgium, Germany …"
Say you could have dinner with any four people in history – who and why?
"My dad, my grandma, my grandad & my nana. Because I've done so much since they all passed away. I'd love to have dinner with them again and tell them what I've been up to."
World Championship Qualifiers
On Tuesday, April 6, 2021 at 8:30 pm, Rebecca Kenna will be playing one of the most important matches of her career. Playing against Brandon Sargeant in the World Championship qualifier. Numbers two and three in the world ranking, Ng On Yee and Nutcharut Wongharuthai, are stuck in Hong Kong and Thailand respectively due to the pandemic. So Rebecca Kenna went up to number two after Reanne Evans for the qualifier.
The best of 11-matches are a particular challenge since the women's matches often only are best of 3- or best of 5-matches. But due to her shop being currently closed, Rebecca made good use of her time and prepared for her prolonged distance. "If you'd have told me 5 years ago I'd be playing in the world championship qualifiers, I would have burst out laughing. It's such an unexpected opportunity but I plan to make the most of it. I'll be putting the hours in on the baize and preparing my mind and body."
We are crossing our fingers for her and wish her a wonderful and exciting time in Sheffield.